Lisle Library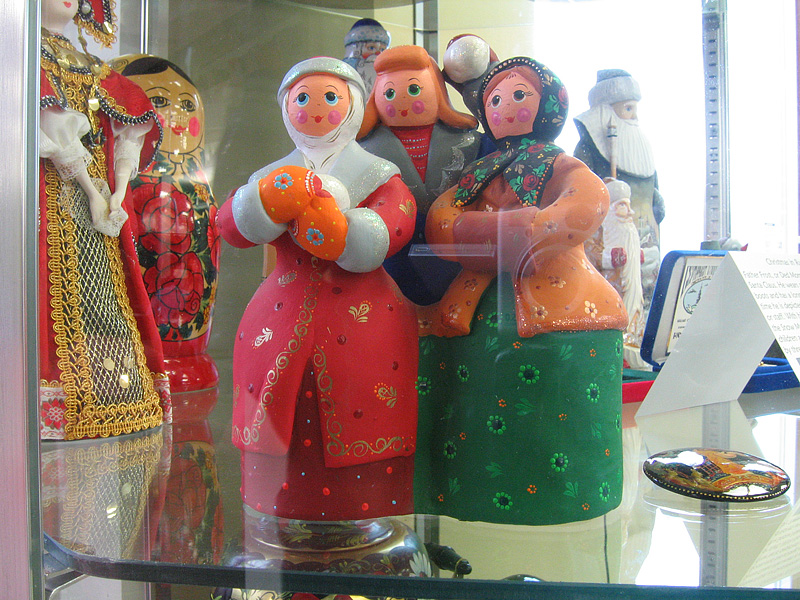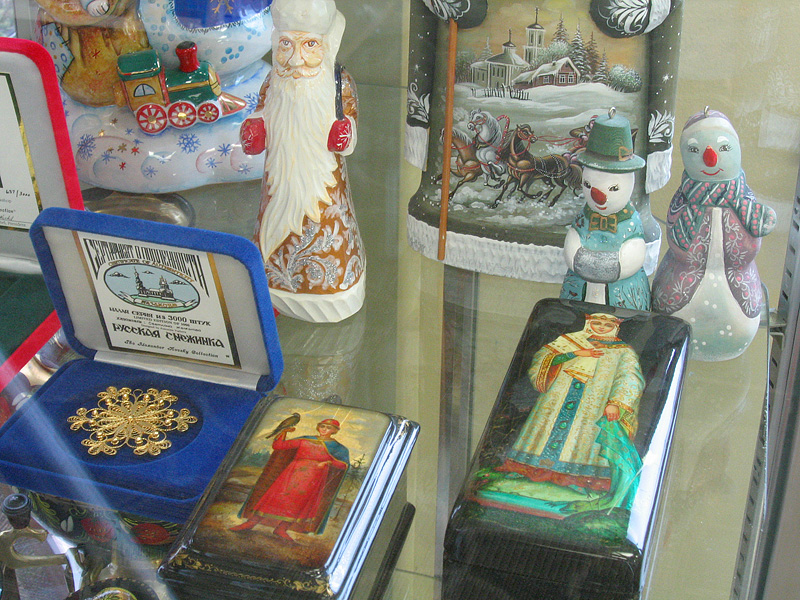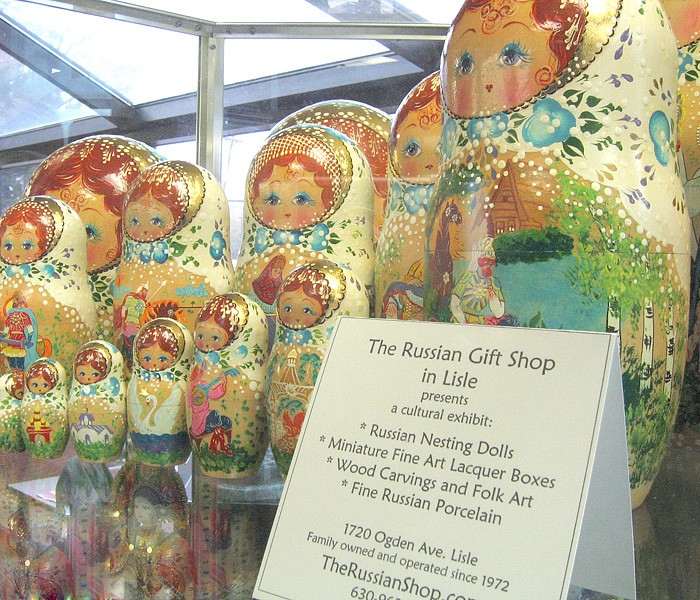 An Exhibition of Russian Culture and Art
at the Lisle Library - 777 Front St.
The Russian Shop held an exhibition of Russian art and culture at the Lisle Library. Some of the beautiful pieces on display included a 2-foot tall "Super-Matryoshka" nesting doll with 29 individual hand-painted pieces, an exact model of a Constructivist teapot originally designed by Kasimir Malevich, and a section devoted to Christmas in Russia. One could also view fine applied art and porcelain, as well as whimsical wood carvings and fanciful folk art. The exhibition was assembled from our shop as well as several private collectors.
Some of the themes in the display included the highly popular Russian nesting dolls (known as Matryoshka dolls), which are hand made and painted and open to reveal smaller and smaller dolls. One of the dolls on display had portraits of the last Tsar of Russia, Nicholas II. The nesting doll was the official souvenir of the 2014 Winter Olympic Games held in Sochi, Russia. Another popular Russian theme at the gift shop is tea time. A Russian tea party begins with a samovar, which is a device that is used to boil water. Using high-quality loose tea, a strong brew is made in a small teapot. This is diluted to taste by mixing with hot water and served with sugar cubes and a slice of fresh lemon and jam. Tradition dictates Russian tea should be served in an elegant blue and gold net patterned teacup or a fine filigree tea glass holder.
Christmas in Russia starts with Father Frost, or Ded Moroz, who is comparable to Santa Claus. He wears a winter coat and hat, boots and has a long white beard. Most of the time he is depicted with a special walking stick, or staff. With his granddaughter and helper, the Snow Maiden, he brings presents to children and travels in a troika, a sleigh pulled by three horses. On display at the exhibit are fine examples of hand carved and painted Russian Santas, along with an unusual carved set of nested Santa dolls. Filigree Christmas ornaments can also be seen. These were fashioned entirely by hand in the workshops of a barely-on-the-map tiny village by the name of Kazakova. They add a bright sparkle to the display. Finally, a small selection of intricate miniature paintings on Russian lacquer boxes and a large exotic gold, red, black and gold decorated swan punch bowl can also be viewed.
We hope you will enjoy taking this virtual visit of the display. We certainly enjoyed bringing it all together.
The Folks at The Russian Shop