Posted by The Russian Gift Shop on May 3rd 2015
The debut of colorful Russian-made collector's plates nearly coincided with the breakup of the Soviet Union. In 1988, three short years before the final breakup of the USSR, the first 12 plates forming the series RUSSIAN LEGENDS, rolled out. Manufactured in several Soviet/Russian porcelain factories, including the historic Lomonosov Porcelain Factory, they were aggressively marketed and sold as fairly inexpensive investments by The Bradford Exchange under the Tianex imprint. The market for these plates was huge. The plates were sold through mail-order subscriptions for $29-$39, plus shipping and handling. The plates were made with up to 17 layers of colored pigments on black porcelain and enhanced with 18kt gold. Eventually over 100 different plates came to be manufactured in a great many series. The artists, unknown in the USA, were famous Russian miniature artists from Palekh, Kholui, and Fedoskino. Each plate was given an individual "Bradex number". Sizes were mostly 7¾" (19cm) in diameter. The backs of each plate carried information in Russian (except for later issues) together with the title and a serial number. Each came in a custom-fitted cardboard (sometimes Styrofoam) box with a Certificate of Authenticity and one or two informational and promotional dual-language brochures in Russian and in English. These handouts were mostly specific to each plate. Overall, there was a pent-up demand for Russian-made goods and these plates fit the bill perfectly. As production ramped up and many new series were developed, manufacture shifted to Lithuania, Belarus, the Philippines, the USA and China. Eventually over 100 different plates came to be manufactured - a veritable treasure trove of plate-making, selling and collecting. The folk art and culture of Russia was somewhat new and exotic to the West and, besides the aforementioned RUSSIAN LEGENDS series, many more were created, including THE FIREBIRD, THE SNOW MAIDEN, VILLAGE LIFE, THE SEASONS, THE NUTCRACKER, ZHOSTOVO, ORTHODOX CHURCHES and RUSSIAN ICONS. After the year 2000, the market finally began to calm down. The earliest plates were produced in the greatest numbers and thus can be easily found for low prices. Some of the later series, made in smaller quantities, are valued somewhat higher. The final series, which were produced in small, almost test market-like quantities, usually carry higher prices. Coming full circle, a number of pretty plates have been made in Russia for the domestic market. Collector plates never took off as investments and, quite honestly, should never have marketed as such. The function of a "collector's" plate is to look nice on display and should be enjoyed as such!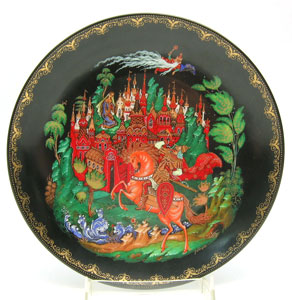 The first Russian collector's plate issued in 1988 (3 years before the fall of Communism). It was produced in huge quantities, probably tens of thousands. It can be misrepresented as "hand painted" but it is a transfer decal.